I'm Coming Out
Duration: 1 x 60'
Play Trailer
Play Screener
Contact Sales
Format
Collection: LGBTQ+
In a UK first, teenagers Ross and Owen film themselves coming out to their parents. We follow their story of fear and anxiety before they make their confession and witness what will become one of the most pivotal moments of their lives.
One of the most important moments of a young person's life is documented on film as they prepare to tell their parents that they are Gay. 2017 marks 50 years after the decriminalisation of homosexuality, but this insightful documentary reveals it's still really hard to be gay in the UK, and coming out remains a moment of real anxiety and emotion.
If 18-year-old Ross gets into university, he's going to come out to his parents and in a UK first, he's going to film it. This insightful documentary reveals how hard it still is to be young and gay in Britain, despite 2017 being the 50th anniversary of the de-criminalisation of homosexuality.
Growing up in an isolated Cumbrian town, 18-year-old Ross has always hidden his sexuality from his parents and his local community. He dreams of escaping to lead an openly gay life by going to Salford University, but first he has to get the right 'A' level grades. Ross decides that if he succeeds, he's going to come out to his parents just before he leaves. And after watching YouTube videos of young Americans coming out to their parents, he's decided to film it.
In excited video diaries, Ross discovers he has won a place at Salford University, so begins to prepare to tell his parents he's gay. Ross also starts to discover how his life will be as an openly gay man, when he goes Manchester Pride for the first time. To get advice about coming out, he also meets up in Manchester with DJ and presenter James Barr, who tells him he got it wrong when he came out, by not telling both his mum and his dad.
Ross then Skype's Vlogger Riyadh Khalaf, who reminds him that whatever his parents' initial reaction is, they may well come round after time, as his own mother and father have done. Riyadh tells him his life will change completely from that moment on.
Nerves start to build as the time to come out approaches, and in an emotional video diary Ross questions why gay people have to come out when his older brother doesn't have to tell his parents he's straight. But he overcomes his anxiety and goes through with coming out – capturing the biggest moment in his life so far on film.
During his coming out, Ross challenges his father Tony about pulling a face when he saw two men kissing on First Dates. In response, Tony says, "I don't mind people doing it, but it's something that doesn't look right when two men are kissing." Ross asks if he can see how that affected him, and Tony adds, "It's just an opinion, I don't mind it, but I don't want it in my face."
Ross also questions his dad suggesting being gay is his "choice", saying "Why would I choose to be gay when, the Orlando shootings, why would I choose a sexuality that might get me killed?" Ross's mum, Rachel, asks him, "So what makes you think you're gay?" and Ross responds, "Are you attracted to men?" "Yes," Rachel answers. "Well so am I," replies Ross.
Ultimately Ross' parents are accepting of his sexuality and his mum Rachel says it doesn't make her feel any differently about him.
A huge weight is lifted from Ross' shoulders, and he is now free to go to university without any secrets. He is happy with their reaction, and feels he can be himself completely.
Three months later, we see Ross returning home and talking to his parents for the first time about the next stage of coming out – bringing a boyfriend home. Tony and Rachel talk honestly about how they are now on a journey with their son and although they know it's not always going to be easy, they love him and will give him their support at every stage. They also talk about how proud they are of Ross.
19-year-old Owen has struggled with his sexuality throughout his teens. But now he has moved away from home, he is ready to come out as bisexual to his parents. And he is going to film it. For years Owen knew he was into both boys and girls, but when he looked online for help, all he saw was hate and misunderstanding about bisexuals. Owen knows he can't battle this prejudice unless he is open about his sexuality, and he is tired of lying. But once he has come out, there is no going back. This insightful documentary reveals how hard it is to be bisexual Britain in 2017, and how coming out is still a huge hurdle for young people to overcome.
In school Owen was confused about his sexuality. He found he was attracted to both boys and girls, but as his friends started relationships, he avoided getting involved with anyone. Now he is at university in Essex he feels he can be himself. He has joined Tinder, and has made it clear on his profile that he is bi.
But Owen is tired of living a double life, and wants to be completely honest with his mum and dad. So he has decided he is going to come out, and he is going to record this huge moment of his life on camera. He is scared because he knows coming out is a forever thing, and that once the has said the words, there is no going back. He also knows he has to go through the nerve racking experience twice – because his mum and dad are not together.
We see Owen dealing with prejudice and misunderstanding about bisexuality. He reacts to harsh online comments that dismiss bisexuals as "just horny". Owen hasn't talked to any other bisexuals about this abuse, so he goes to meet bi activist Lewis Oakley in London, who agrees that people often assume bisexuals are "slutty" because they are attracted to both men and women. Owen opens up about the prejudice he has faced.
To get advice about coming out, Owen joins his university's LGBT society, where members talk about their experiences. One member tells him not to frame it as an apology – it should instead be an opportunity for his parents to remain part of his life.
We see Owen finally build up the confidence to tell his mum and he captures their conversation on camera. In a life affirming moment, his mum, Jo, says he doesn't have to go back in the closet. This a huge weight off his mind, and days afterwards, we see he has started a relationship with a fellow female student.
But he still has to tell his dad – a prospect he is far more nervous about. How will his father react?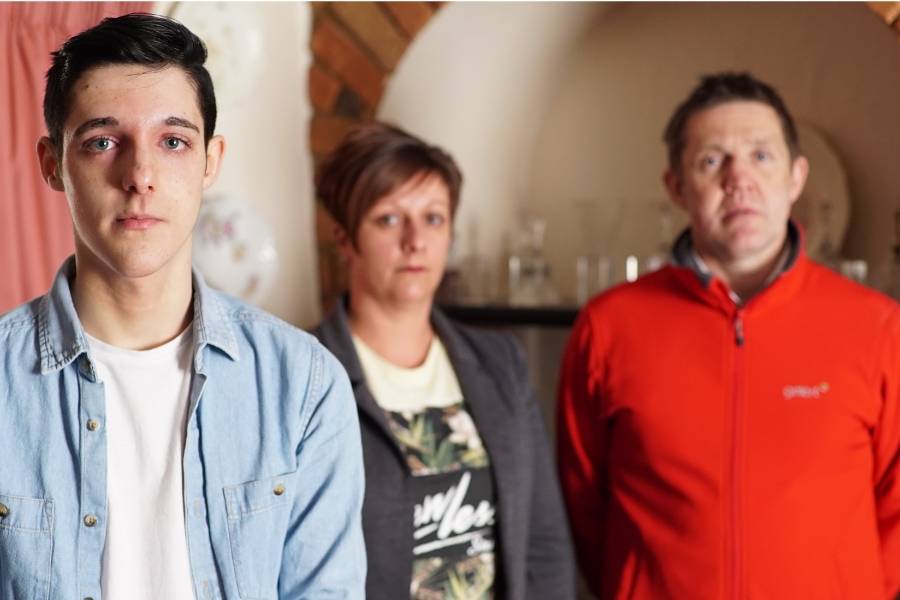 Other programmes in this series
Format Info
I'm Coming Out
This insightful documentary reveals how hard it still is to be gay in the UK, and coming out remains a moment of real anxiety and emotion.
Series Duration: 1 x 60'
Resolution: HD
Genres: Human Interest
To Format
Added to Your Portal - Favourites
Removed from Your Portal - Favourites