Dirty Vegan
Series 1 & 2
Duration: 8 x 30'
Play Trailer
Play Screener
Contact Sales
Dirty Sanchez dare-devil, Matt Pritchard, is now an ultra-athlete and chef – and a proper vegan to boot. His challenge: to prove that a vegan diet can make you fitter, stronger, and healthier – with food that tastes "banging"
Matt's mission over these two series is to show us all that his favourite food isn't boring or bland and it can stand up to any non-vegan meal. In series two he's taking on a new set of vegan-sceptics, one dish, and one challenge at a time.
Series 1 - 4 x 30'
Episode 1 – Rugby
Matt is taking on the anti-vegans, one dish, and one challenge at a time. This time he must come up with a protein and power-packed banquet for Llanelli Scarlets women's rugby team – one that will power them to victory at the big game over their rivals, Bath. But will rabbit food just ruin the rugby?
Episode 2 – Wl
Matt must create dairy-free cakes for the Glamorgan Federation of the Women's Institutes…It's the Great Welsh Vegan Bake Off. Will an expectant crowd of cake lovers at the annual Gower Agricultural Show find that vegan cakes can be as tasty, sweet, and creamy as their non-vegan alternatives?
Episode 3 – School
Matt is going back to school for the first time in 20 years to convince a group of GCSE pupils from Kings Monkton school in Cardiff that vegan food can be proper brain food, and proper tasty too. Breakfast is vital to kick-start the bodies and brains of teenagers in particular. But can a vegan breakfast stand up to a classic fry up?
Episode 4 – Caving
Matt battles claustrophobia to complete an epic vegan food challenge set by the South and Mid Wales cave rescue team. They're called to rescue people trapped hundreds of feet beneath the ground and caving is a super physical pursuit, so they need the very best muscle fuel they can get. Can Matt make them see the light with a vegan meal to give them the endurance energy they need?
Series 2 - 4 x 30'
Episode 1 – Wedding
Matt is feeling the pressure as he designs and cooks a vegan spread for 160 wedding guests at a country estate house in South Wales. It's the bride and grooms special day and Matt must hit their exacting standards, the standards of the venue, and the expectations of the guest. With a cake and a selection of signature dishes to prepare, this notoriously tricky catering challenge has got Matt in a spin. But once promising to deliver, will he stick to that vow, or will the sheer scale of the challenge leave them standing at the alter… hungry?
Episode 2 – Wrestling
Matt is wrestling with the menu for the Dragon Pro Wrestlers in Newport. These professional athletes pack a whopping punch when it comes to their calorific diet, eating up to 4000 calories when preparing for the match. But can Matt's vegan meal provide them with the energy needed to get them though the big wrestling event at the end of the month? It better do. He wouldn't want to get on the wrong side of this lot.
Episode 3 – Ballroom
In this episode, it's Pritchy Come Dancing as twinkle toed Matt takes to the dance floor to make a vegan meal that will get his ballroom dancers foxtrotting to a straight 10! Getting older is something we all do, but can vegan food help us do it gracefully… or disgracefully in Matt's case! With a sprinkle of flare, a dollop of panache and a pinch of style, Matt aims to show his waltzing wonders how plant based food can stand up to any classic British dish.
Episode 4 – Ice Hockey
Matt is cooking a power packed meal for the Cardiff Devils Ice hockey team, with the aim of supercharging their sticks and skates as they take on their rivals in the hockey league. His food will help them win with any puck! But as Matt finds out, there's something very fishy going on…!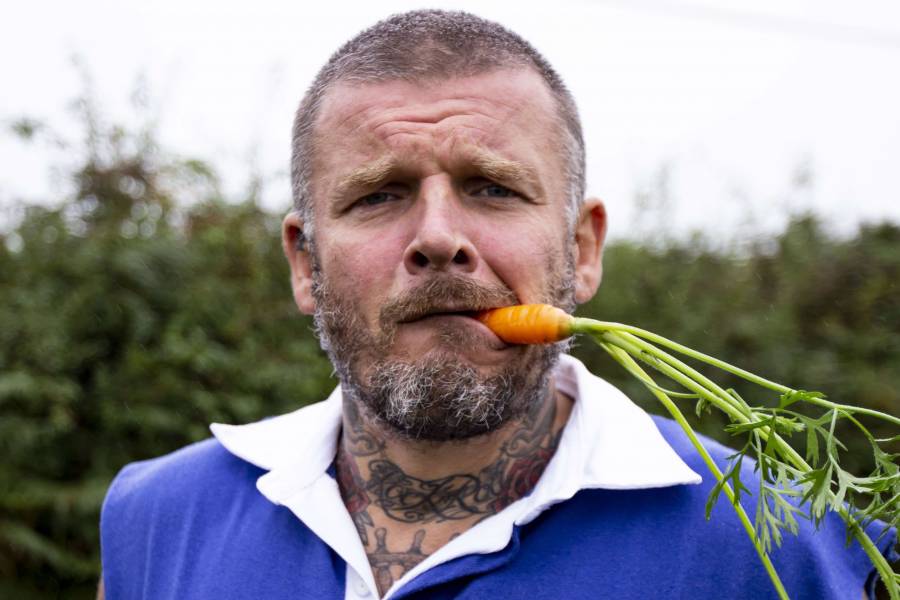 Format Info
Dirty Vegan
Dirty Sanchez dare-devil, Mathew Pritchard, sets out to prove that a vegan diet can make you healthier – with food that tastes "banging".
Series Duration: 8 x 30'
Resolution: HD
Genres: Lifestyle
Added to Your Portal - Favourites
Removed from Your Portal - Favourites